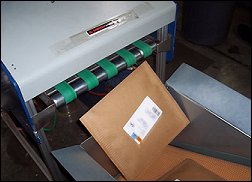 FORT MYERS, FL — February 28, 2012 — Today, Harvey Software released ways for businesses to save time in the shipping department. Harvey Software's
Computerized Parcel System (CPS™) shipping software
has features that streamline the shipping process so that employees can work on other tasks. The features available within CPS increase efficiency while also reducing shipping costs. Harvey Software encourages shippers to prepare their shipping systems now to immediately realize the benefits and prepare for increased order volume.
"Shipping software can be the smooth last step in a fulfillment cycle, or it can be software that puts up a daily fight when trying to get orders out the door," said Cary Cobb, Director of Digital Marketing at Harvey Software. "Ideally, shipping software
reliably connects to the fulfillment or customer management system
. With just a few keystrokes to complete each shipment, businesses are able to eliminate such errors as incorrectly choosing a carrier, shipping to a non-existent address, or choosing an unnecessarily more expensive service that costs a business money," explained Mr. Cobb. "A new user can
learn the basics of shipping with CPS in minutes
. Once the weight comes in from the scale and the preferred shipping method is chosen, CPS prints carrier approved labels and is ready for the next shipment. It can be adapted to a variety of serial-based printers and scales, and the connection to an order management system includes the ability to write-back completed shipping information," continued Mr. Cobb.
"Because CPS can be adapted to such a variety of applications, getting a shipping label is no longer a bottleneck in the fulfillment process. CPS is simple enough to be operated by a single person shipping parcels out of a home-based business. It is also versatile enough to be customized for the needs of a medium sized shipper, and with automation features found only in much more expensive solutions, CPS can operate on large-scale enterprise applications with or without a user present at the computer. With that kind of versatility, CPS shipping software serves a variety of companies' shipping needs," said Mr. Cobb. "We focus a lot on how CPS saves money, but the time it saves is just as important, if not more so. Harvey Software encourages businesses to check their shipping software and make sure it is optimized for maximum efficiency," concluded Mr. Cobb.
About Harvey Software, Inc.
Harvey Software is an established, leading developer of globally ready, multi-carrier shipping software solutions, providing businesses with shipping solutions since 1983. Harvey Software's premium shipping solution, the Computerized Parcel System (CPS™) increases profits, boosts domestic and international shipping efficiency, reduces shipping expenses and eliminates the inefficiencies of single carrier software systems. CPS is a FedEx® Compatible Solution, is UPS Ready®, USPS® certified and works with Internet Postage. CPS can be purchased, downloaded, installed, and supported all over the Internet.
For additional information about this release, contact Cary Cobb, Director of Digital Marketing, Harvey Software, Inc., 7050 Winkler Rd. #104, Fort Myers, FL 33919, 800-231-0296,
http://www.HarveySoft.com/
. We make logistics easy.
Disclaimer
Brands and products referenced herein are the trademarks or registered trademarks of their respective holders.