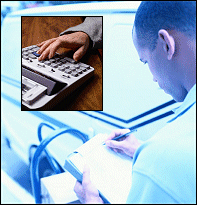 FORT MYERS, FL — April 3, 2012 — Today, Harvey Software shared information on how a multi-carrier shipping system can improve business processes within companies that ship through small parcel carriers. Harvey Software's Computerized Parcel System (CPS™) shipping software contains several tools that will streamline the shipping process into a smooth workflow. Integration of the shipping software with accounting, OMS, and ERP solutions cuts down on manual data entry.
RateBots™
define business rules for shipping and ensure that management decisions are carried out package by package. Reporting features allow managers to reconcile the shipping invoice against what is expected. All of these speed up work in the shipping department and mean that employees can focus on other tasks.
"Shipping is complicated for the carriers, but it does not have to be for the local business owner or warehouse manager. The best multi-carrier shipping software contains tools that will
automate many manual functions within the shipping department
," said Cary Cobb, Director of Sales and Marketing at Harvey Software. "Our customers who use order management systems connect to that data through their company's network – they don't need to enter shipping data manually. Many are able to scan a pick ticket, instantly call up the customer's shipping data, and print the label for the best-choice carrier for that package within seconds," continued Mr. Cobb. "Because our RateBots define carrier selection rules, a shipper can define 'two day express' as a shipping method. Any time a customer wants to ship express, they would define that RateBot as the shipping method, and our software chooses the best rate without further user input. Create different RateBots that include different carriers, ground and overnight services; your shipping employees will not have to navigate among the myriad of shipping methods available," said Mr. Cobb. "From a simple shipping workflow standpoint, CPS handles the computer work on its own, leaving employees more time to pick orders and pack boxes," explained Mr. Cobb.
"Once daily processing is operating efficiently, a manager can check reports at the end of the day, end of the month, or define a different time period to review. Some reports look at individual package records while others handle broader shipping ranges. Use these to
help calculate flat rate shipping costs
and to make sure the carriers are billing appropriately," continued Mr. Cobb. "There are other ways to improve the process within the shipping department. We'd be happy to speak to anyone who has more specific questions for their business's challenges," concluded Mr. Cobb.
About Harvey Software, Inc.
Harvey Software is an established, leading developer of globally ready, multi-carrier shipping software solutions, providing businesses with shipping solutions since 1983. Harvey Software's premium shipping solution, the Computerized Parcel System (CPS™) increases profits, boosts domestic and international shipping efficiency, reduces shipping expenses and eliminates the inefficiencies of single carrier software systems. CPS is a FedEx® Compatible Solution, is UPS Ready®, USPS® certified and works with Internet Postage. CPS can be purchased, downloaded, installed, and supported all over the Internet.
For additional information about this release, contact Cary Cobb, Director of Digital Marketing, Harvey Software, Inc., 7050 Winkler Rd. #104, Fort Myers, FL 33919, 800-231-0296,
http://www.HarveySoft.com/
. We make logistics easy.
Disclaimer
Brands and products referenced herein are the trademarks or registered trademarks of their respective holders.