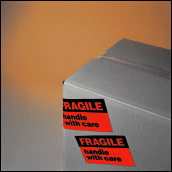 FORT MYERS, FL — February 22, 2012 — Today, Harvey Software provided detailed information about alternate parcel insurance options integrated into its multi-carrier
Computerized Parcel System (CPS™)
. By integrating these third party insurance options into CPS, shippers can insure packages using one of the alternate insurance companies, providing shippers with package insurance protection when needed, but at a significant savings compared to similar protection when purchased directly from the parcel carriers.
"We've seen increased interest in third party parcel insurance recently because shippers continue to look for ways to cut costs without sacrificing service. Most third party insurers charge significantly less for package insurance than the carriers do. By aggregating those savings on a large scale, shippers will realize cost savings without any reduction in service quality," said Cary Cobb, Harvey Software's Director of Digital Marketing. "In many multi-carrier shipping systems, a user may need to use a separate web site or program to use these third party insurance services. At Harvey Software, we recognize the need to save time on this process, so we integrated multiple options of third party parcel insurance, including
PIP
,
Shipsurance
, and
U-PIC
, into our main interface. Processing alternate parcel insurance is part of the normal End-of-Day processing in CPS, so shippers have all of the data and reporting needed for each alternate insurance company. Integrated third party insurance processing is another way that CPS makes it easier to ship efficiently and achieves the goal of saving money and time," concluded Mr. Cobb.
About Harvey Software, Inc.
Harvey Software is an established, leading developer of globally ready, multi-carrier shipping software solutions, providing businesses with shipping solutions since 1983. Harvey Software's premium shipping solution, the Computerized Parcel System (CPS™) increases profits, boosts domestic and international shipping efficiency, reduces shipping expenses and eliminates the inefficiencies of single carrier software systems. CPS is a FedEx® Compatible Solution, is UPS Ready®, USPS® certified and works with Internet Postage. CPS can be purchased, downloaded, installed, and supported all over the Internet.
For additional information about this release, contact Cary Cobb, Director of Digital Marketing, Harvey Software, Inc., 7050 Winkler Rd. #104, Fort Myers, FL 33919, 800-231-0296,
http://www.HarveySoft.com/
. We make logistics easy.
Disclaimer
Brands and products referenced herein are the trademarks or registered trademarks of their respective holders.