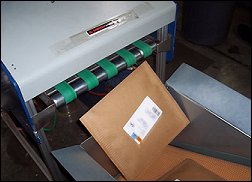 FORT MYERS, FL — January 24, 2012 — Today, Harvey Software announced the latest update to its Computerized Parcel System (CPS™) shipping software. In this update are the latest rates from the parcel carriers
FedEx
and the
United States Postal Service (USPS)
. In addition, new rates for the DYMO Endicia Internet postage are also included. These rates took effect on Sunday, January 22nd, as did changes in federal law for how customs documents are prepared for manifested international shipments. CPS customers can see the complete update notes in the Notices and Updates section of their On-Line Support. A new Express Mail Flat Rate Box, offered by both Endicia and the USPS directly, is now available for both domestic and international shipping as well as a Priority Mail Regional Rate "C" box, which enables flat rate shipping up to 25 lbs.
"We encourage our customers to update their
CPS shipping software
as soon as possible. This ensures that they see accurate rating for FedEx and USPS going forward – UPS rates already took effect on January 2nd, 2012. Also, we encourage our customers to enable the automatic updating of CPS in program setup – updates are only a few times a year and are concentrated during this December/January timeframe. Not only that, but the rate shopping features that form the backbone of CPS are only effective when viewing updated shipping rates," said Bob Sansone, Director of Sales at Harvey Software. "This update is not large and is quick to install – customers can expect to be shipping again within a couple of minutes. We already released the CPS specific features in the December update, and this update is really just an update of rates for FedEx and USPS. The new services that are available from USPS and Endicia will show up in the rate shopping features just like any other service, and as always, features within the software can be set to choose the best-priced service automatically," continued Mr. Sansone. "Barring additional changes from the carriers, this update should be the last of the season, and customers can expect these rates to stay the same for the remainder of 2012. Of course, the fuel surcharges from FedEx and UPS are still subject to change monthly as usual, but this change does not require a significant update of our shipping software," concluded Mr. Sansone.
About Harvey Software, Inc.
Harvey Software is an established, leading developer of globally ready, multi-carrier shipping software solutions, providing businesses with shipping solutions since 1983. Harvey Software's premium shipping solution, the Computerized Parcel System (CPS™) increases profits, boosts domestic and international shipping efficiency, reduces shipping expenses and eliminates the inefficiencies of single carrier software systems. CPS is a FedEx® Compatible Solution, is UPS Ready®, USPS® certified and works with Internet Postage. CPS can be purchased, downloaded, installed, and supported all over the Internet.
For additional information about this release, contact Cary Cobb, Director of Digital Marketing, Harvey Software, Inc., 7050 Winkler Rd. #104, Fort Myers, FL 33919, 800-231-0296,
http://www.HarveySoft.com/
. We make logistics easy.
Disclaimer
Brands and products referenced herein are the trademarks or registered trademarks of their respective holders.